Industrial Conveyors
We supply a large range of industrial conveyors and automation machinery to different industries and our equipment handles a wide range of different products. For more advice about how our conveyor systems can be used in a variety of sectors, please send us a message or give us a call.
Food and Packing Industry Conveyors
Our aluminium and stainless steel Modu FlexChain, Modular Belt Conveyors and Roller Conveyors are used by many companies in the food and packaging industries.
Medical & Pharmaceutical Industry Conveyors
We produce many special handling systems for pharmaceutical companies. We have modular units that can be adapted to handle various products including vial handling systems and work in clean room environments.
Automotive Industrial Conveyors
Our extensive range of industrial conveyors are particularly suited to handling the precision components used in the automotive industry.
Industrial Tote & Parcel Conveyors
Roller conveyors and belt conveyors are often utilised in this industry and our heavy duty and reliable steel and aluminium framed product range are well suited. They offer a cost effective and easy to maintain solution to transport a wide variety of product sizes.
Warehouse and Sortation
Warehouse conveyor systems efficiently efficiently move cartons, totes and pallets. Our Barcode and RFID software also mean we can retrieve information from the Warehouse Management System (WMS) and use this information to route or sort products into different lines.
Industrial Conveyors for Tea Handling
Monk provides industrial conveyors for Tea handling, covering everything from bulk bags on our Zero Line Pressure roller conveyors to high speed conveying of the finished teabag packs on our Modu Flex-Chain conveyors.
Optical Conveyor Systems
We have 18 years' experience in industrial conveyors for the spectacle lens industry, so our engineers have a great understanding of the problems and processes within the factory. We are the preferred supplier to many of the leading brands and have installed systems which reduce production costs by automating the feeding of jobs between machines. Please click below to visit our Optical industry page for further information.
Candle Making Conveyors
We have designed and installed fully automatic industrial conveyor systems for the candle making industry. Conveyors are used to automate wax filling and create a controlled method of cooling a large number of products.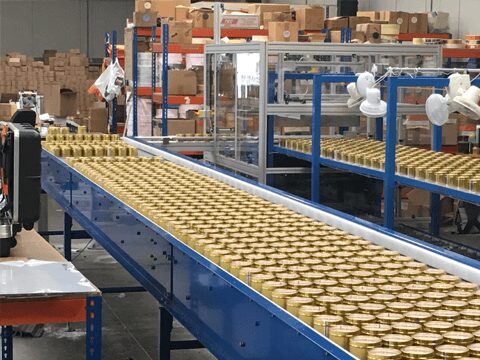 Cooling Conveyor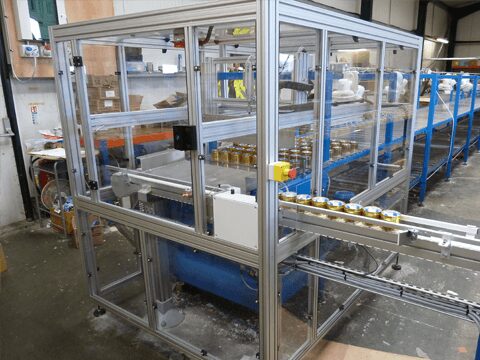 Conveyor Entry System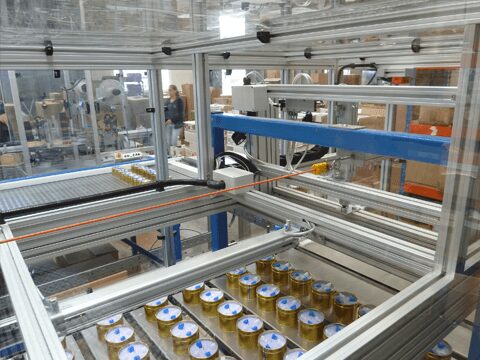 Conveyor Unload
Retail Display Conveyors
We design special and sometimes unusual display systems for the retail trade using our range of conveyors. Recent customers are Cadburys, JD Sports and River Island.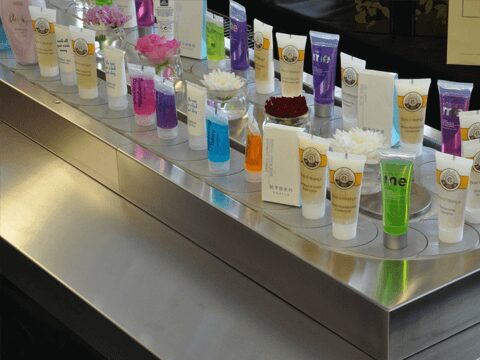 Cosmetics on Display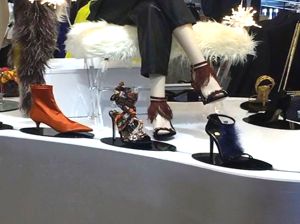 River Island Shoe Display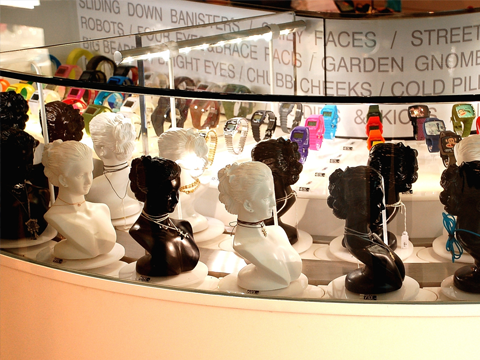 Jewellery Display
Sushi Conveyors
We are the leading sushi conveyor supplier in Europe. Our sushi conveyors have been installed in restaurant in over 30 countries. Please click below to visit our sushi conveyor website for further information.