Spiral Conveyor System
Vertical Spiral Conveyor – Apollo VTS
MONK Conveyors build spiral conveyor systems using Apollo VTS's world's leading vertical conveying systems. Apollo VTS based in The Netherlands manufacture leading high-quality machines.
The Apollo Single Lane Spiral Conveyor transports products up or down in a continuous flow, and has proven to be a very reliable spiral conveyor system which increases efficiency while conserving valuable floor space.
Single Lane Spiral Conveyor features:
Loads up to 50kg/meter.
Speed 60 m/minute.
One motor.
Designed to operate 24/7.
Small footprint.
Low friction operation.
Built-in protection.
Low noise level.
No lubrication under the slats required.
Low maintenance.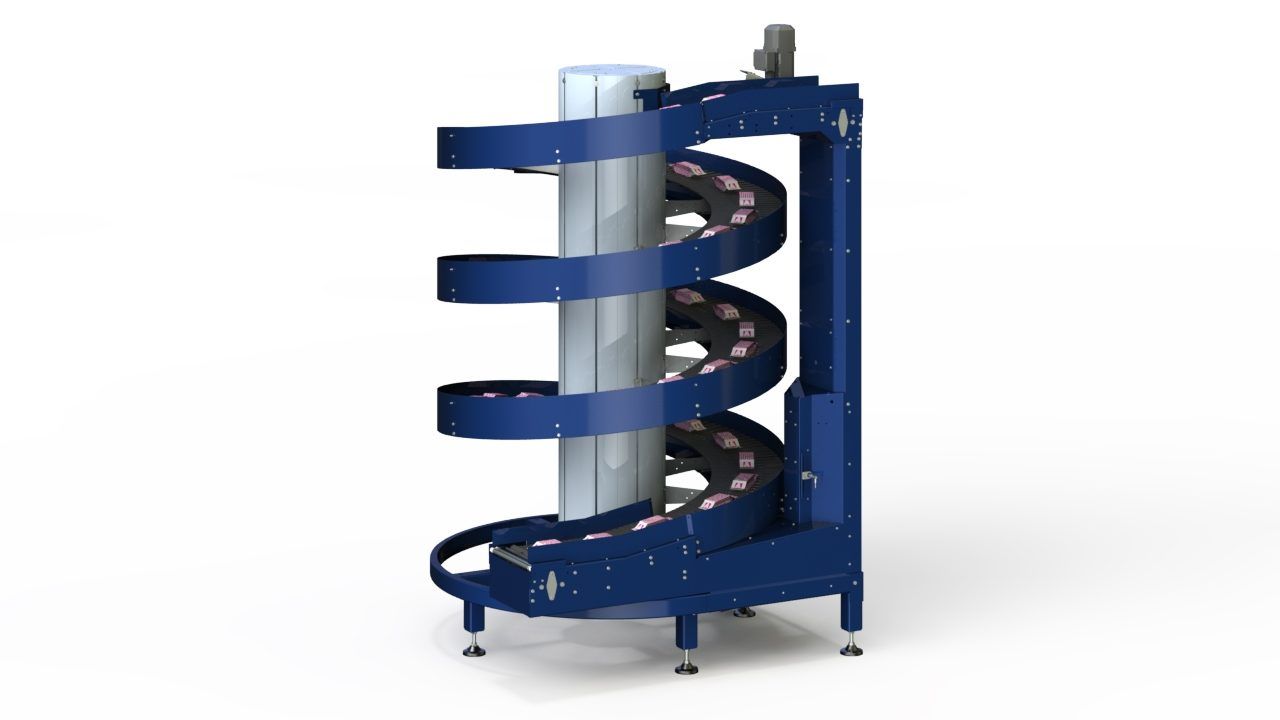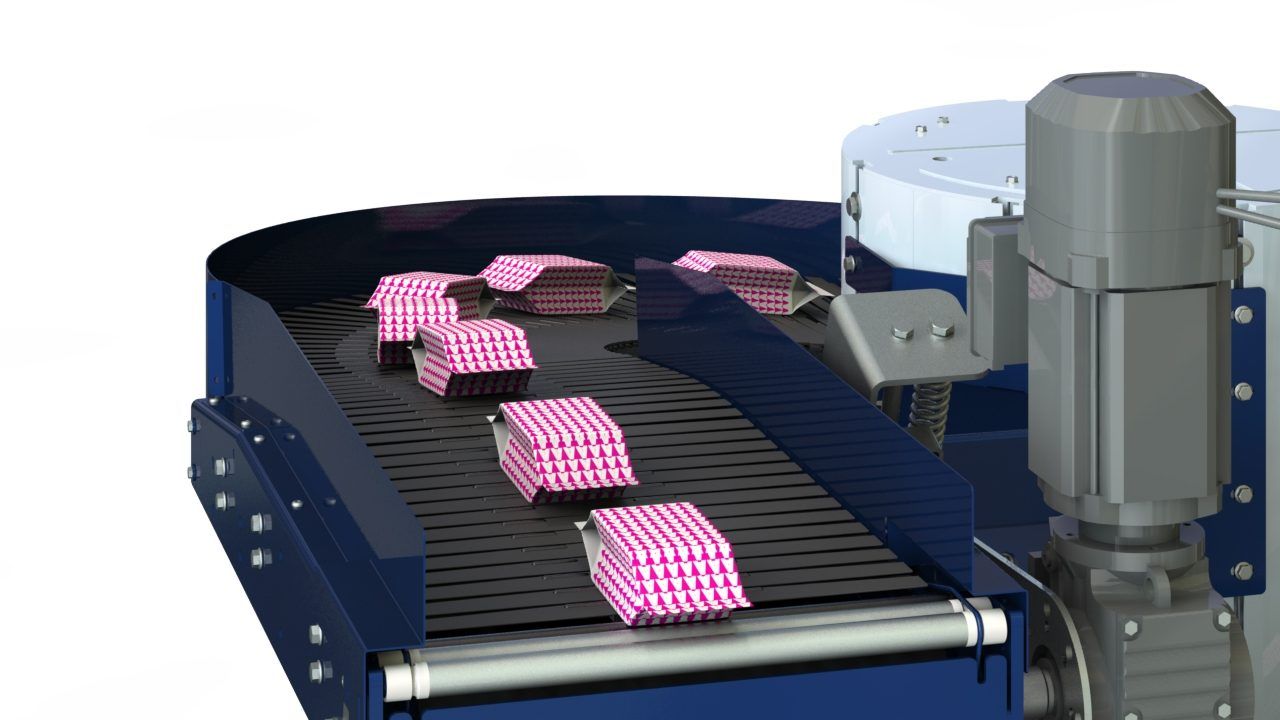 The Vertical Spiral Conveyor consists of a moving belt which revolves around a central column. It can be used to move a wide range of products between floor levels or over walkways. The belt guide system runs on precision bearings so there is only rolling friction and noise level is very low.
There are multiple products which are suitable such as; bags, bundles, totes, trays, cans, bottles, containers, cartons and wrapped and unwrapped items. Spiral Conveyor systems work for many types of industries: food industry, beverage industry, newspaper industry, pet food & personal care industry and others.
Dual Lane Spiral Conveyors and Mass Flow Spirals are also available. Please contact us for further information at Monk Conveyors.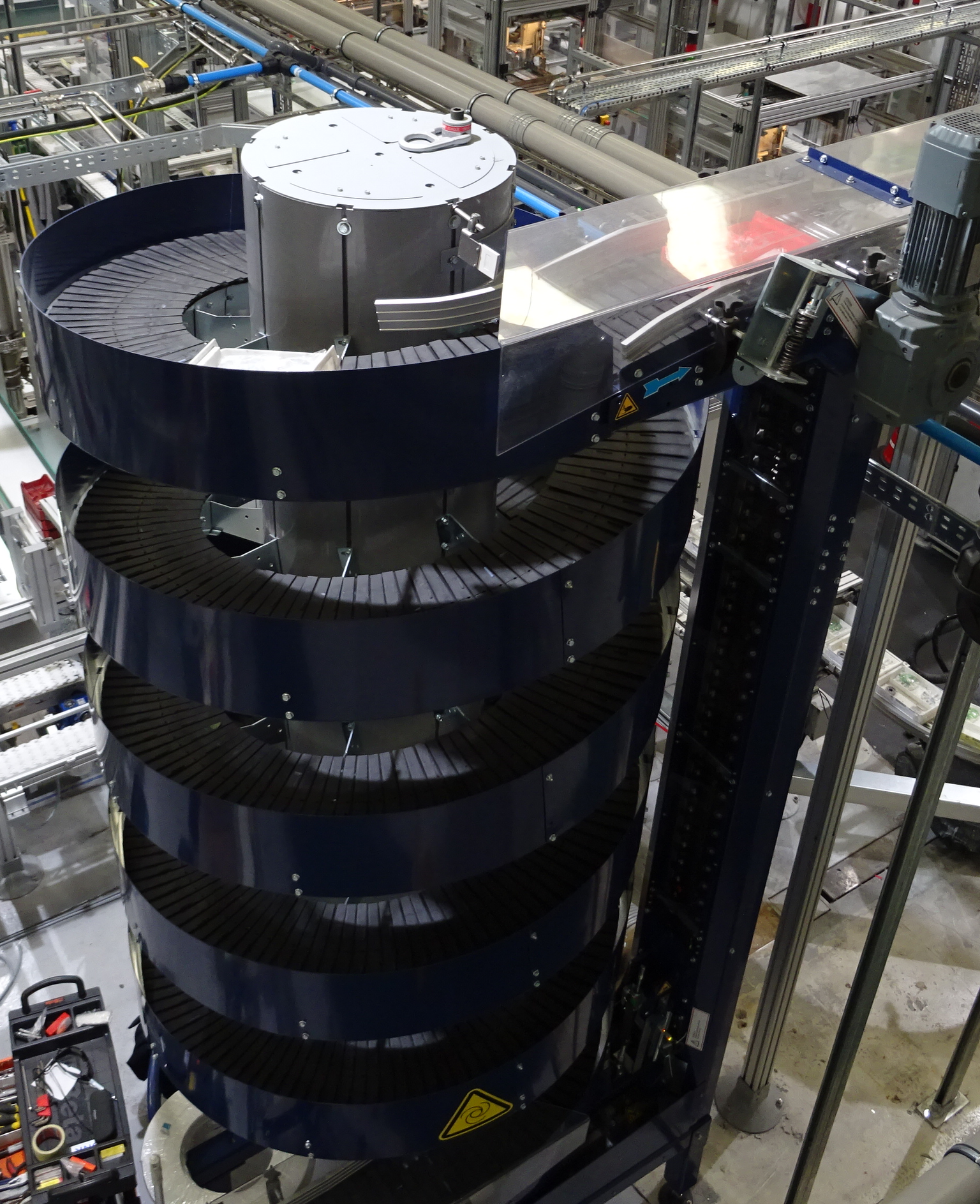 Spiral Conveyor Systems – JP
The JP Spiral Conveyor is designed for hygienic vertical conveying of packed or unpacked products. The rigid construction and the strong hybrid belt allow high capacity conveying. This makes the conveyor ideal for highly demanding food-processing industries. The flat belt surface is suitable for a variety of loads. The conveyor belt combines plastic panels with stainless-steel rods. This spiral conveyor system provides a very smooth and efficient conveying surface.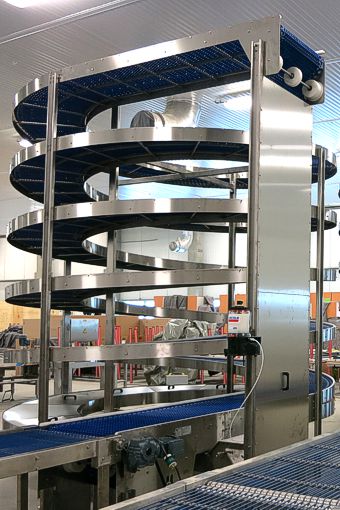 At Monk Conveyors we can design and install conveyor systems using the J P Spiral Conveyor system. Our engineers have a vast experience of designing and installing efficient vertical spiral handling systems.
Standard Spiral Conveyor Sizes Available
| | | | |
| --- | --- | --- | --- |
| Belt Width | Effective Belt Width | Inside Belt Radius | Outside Frame Diameter |
| 254 mm | 234 mm | 381 mm | 1270 mm |
| 305 mm | 285 mm | 458 mm | 1526 mm |
| 406 mm | 386 mm | 609 mm | 2030 mm |
| 508 mm | 488 mm | 762 mm | 2540 mm |
| 610 mm | 590 mm | 915 mm | 3050 mm |
| 660 mm | 640 mm | 990 mm | 3300 mm |
| 762 mm | 742 mm | 1143 mm | 3810 mm |
| 813 mm | 793 mm | 1220 mm | 4066 mm |
| 1016 mm | 996 mm | 1524 mm | 5080 mm |
Special sizes can be manufactured to suit your application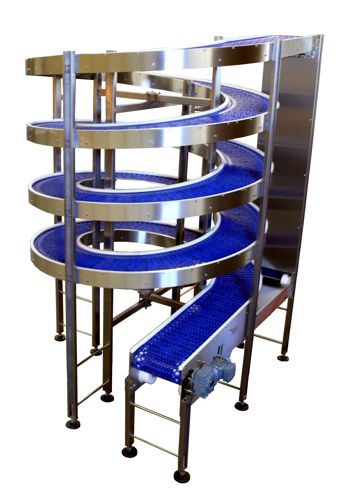 Superior Product Handling
The all-plastic contact surface ensures an excellent product release of unpacked food products such as poultry, meat and fish. The open spiral design allows for an exceptionally large open area (up to 67 percent when the belt is expanded).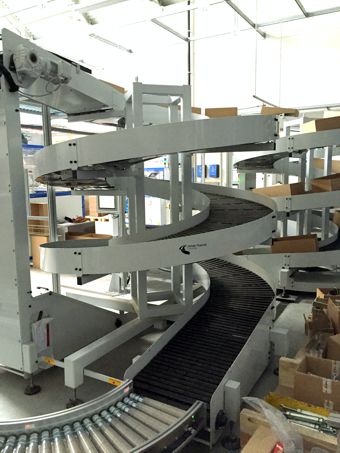 Optimize floor capacity
JP FD Spiral conveyor systems have a compact and floor space-saving design. With their small footprint and a curve radius of 1.5 x belt width they optimise your floor capacity. The compact spiral conveyor fits into almost any plant design.
Long tracks and fewer transfers
The use of bearings in the chain ensures a low friction coefficient and the spiral is driven by just one motor for up to 50 metres of belt length. Long spiral conveyor tracks mean fewer transfers and therefore economical conveyance.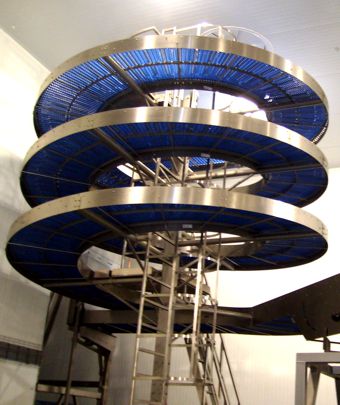 Easy Access for Maintenance
The open design of the spiral conveyor system offers clear access for maintenance and wash-down. This means reduced maintenance costs and better belt sanitation.