Medium Duty Belt
For more information about our range of belt conveyors, download the PDF catalogue or send us a message.

Download PDF Catalogue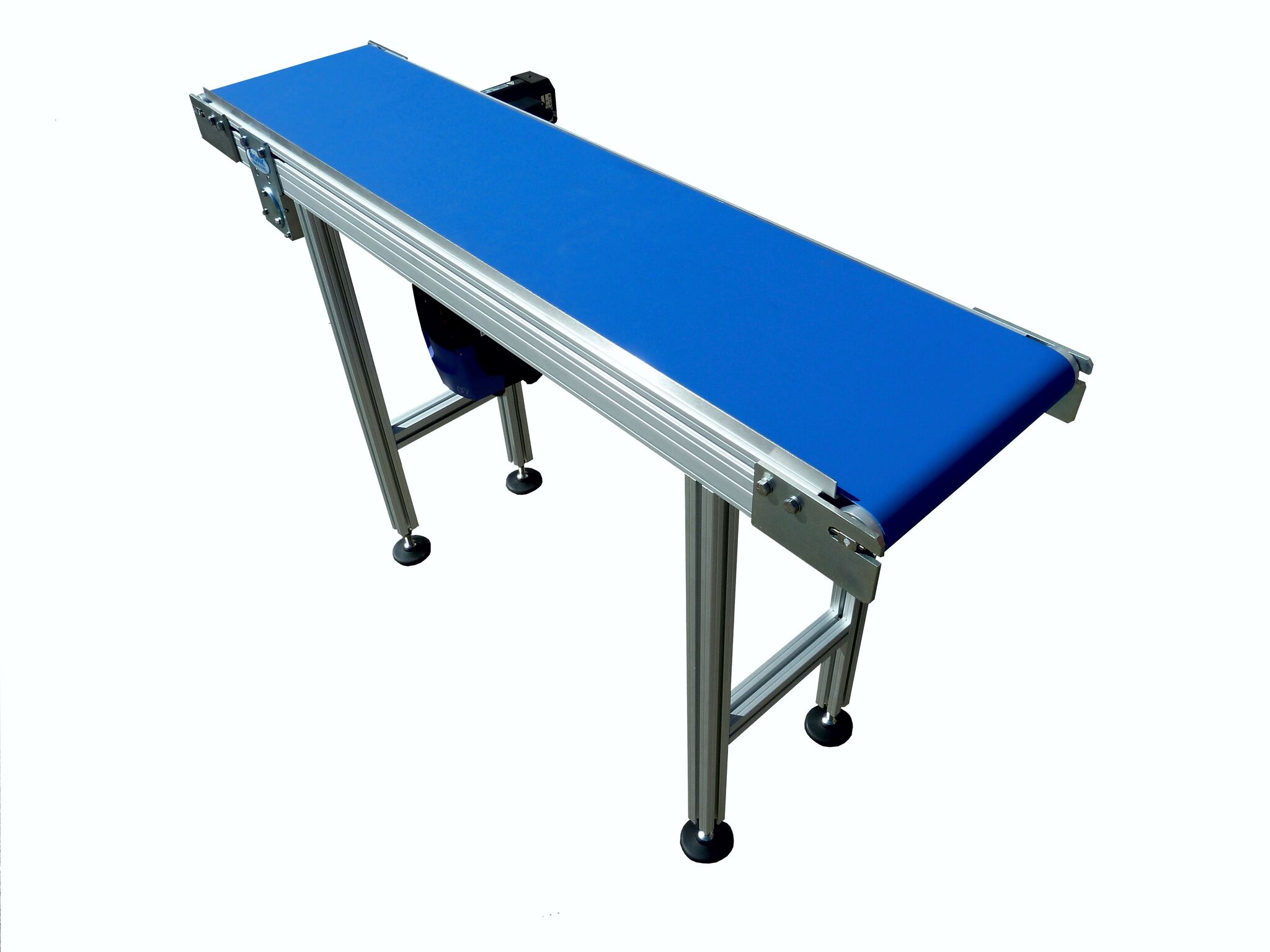 Our belt conveyors have a very narrow profile and are suitable for use in production lines where space is limited. Our standard conveyors are made from standard modules and are quick and simple to construct, are safe and have a low noise level. They have T-slots on both sides for installing guide rails, sensors, etc. There is also a choice of different drive units.
Lengths: 1 to 5m
Belt Widths: 40mm, 80mm, 100mm, 200mm, 300mm, 400mm & 600mm.
Speed Ranges: 0.13 to 53m/min
Drive Roller Diameters 50mm and 63mm
Idler roller diameter 50mm
Fixed side guides 20mm or 35mm high
Adjustable side guides – optional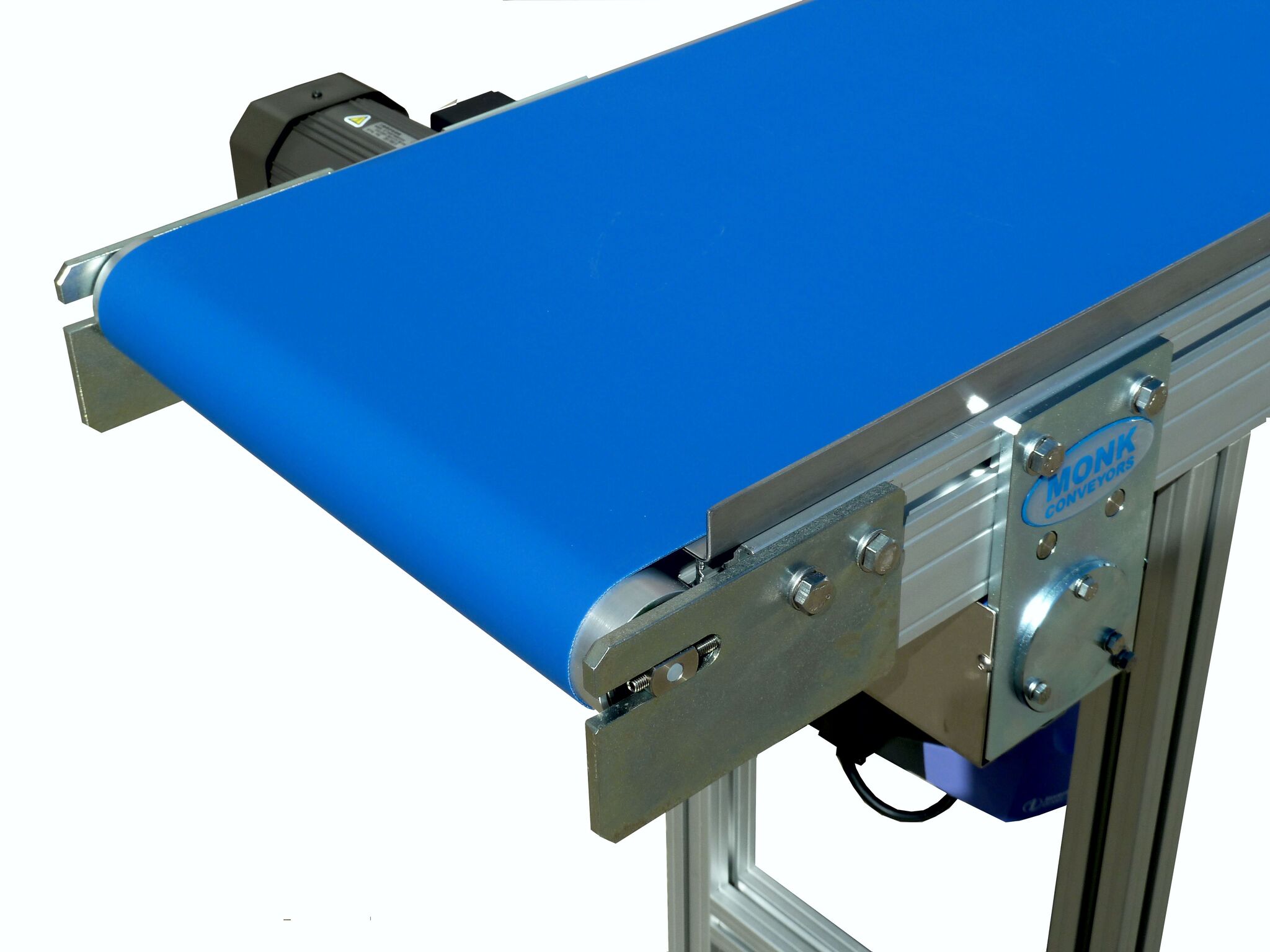 The Compact Conveyor
Compact narrow cross section
Crowned rollers for accurate belt tracking
Easy belt tensioning & tracking
50mm idler rollers
Under guarding – optional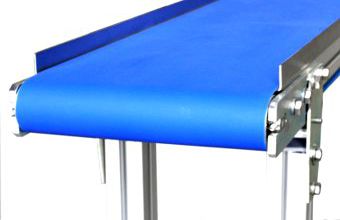 Side Guides
Fixed Integral Side Guides
Standard stainless steel side guides
Integral part of the bed plate
Increases the stiffness of the bed plate
Heights: 20 and 40mm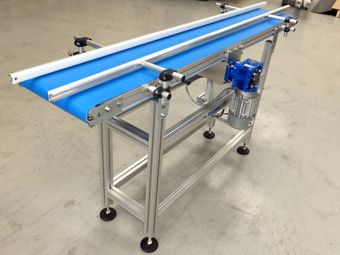 Adjustable Side Guides
Aluminium extrusion
Replaceable plastic wear strip
Adjustable for height and width
Can be bent to form a lead in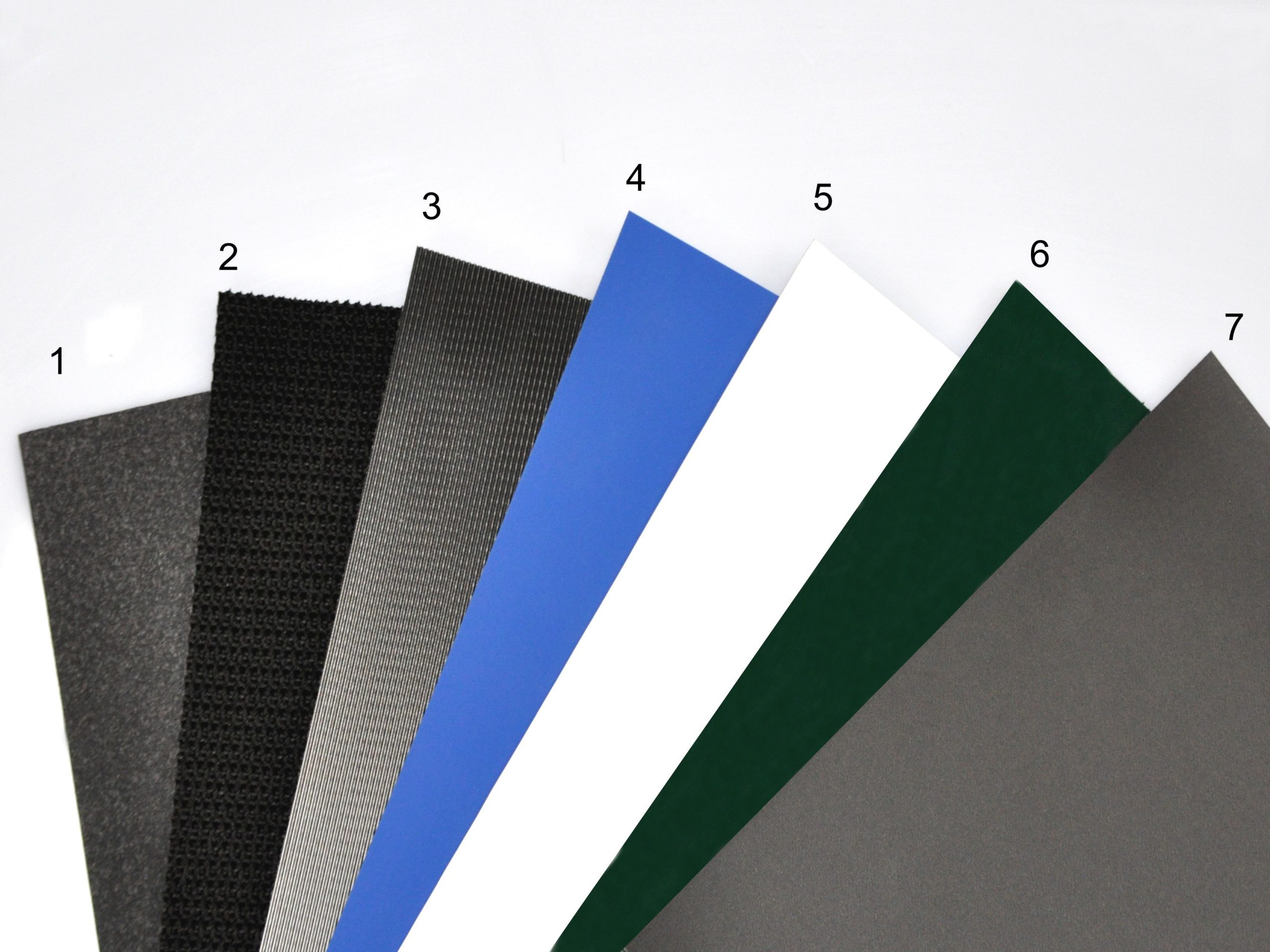 Belt Types
Belts
Silon – low grip – flock surface – ideal for delicate parts
Black PVC heavy duty course grip belt – ideal for inclines
Black ribbed urethane high grip belt – ideal for inclines
Blue urethane food quality belt
White urethane food quality belt
Green smooth PVC general use belt
Black smooth urethane general use belt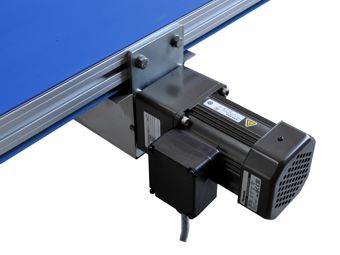 Drives
Center Drive M1950-CD
Large drive roller diameter of 63mm
Can be moved to any position along the conveyor
Belt has a large rap around of 255 degrees
Integral thermal overload trip
End Roller Diameters: 50mm
Speed Ranges: 0.13 to 53m/min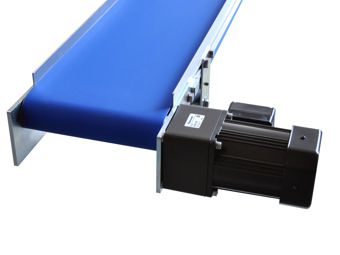 End Drive M1950-ED
Drive and idler roller 50mm diameter
Can be used with belt flights and attachments
Belt Widths: 80 to 600mm
Lengths: 1m – 5m
Speed Ranges: 1.4 to 42m/min*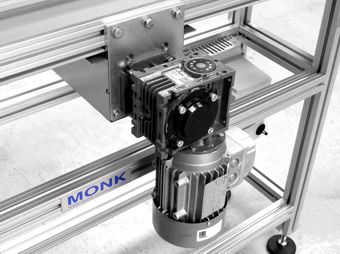 Heavy Duty Quick Change Drive
Motors are very reliable but may need to be changed
This motor can be changed with the minimum of down time
Ideal for use in long production lines
Choice of SEW or Motorvario geared motors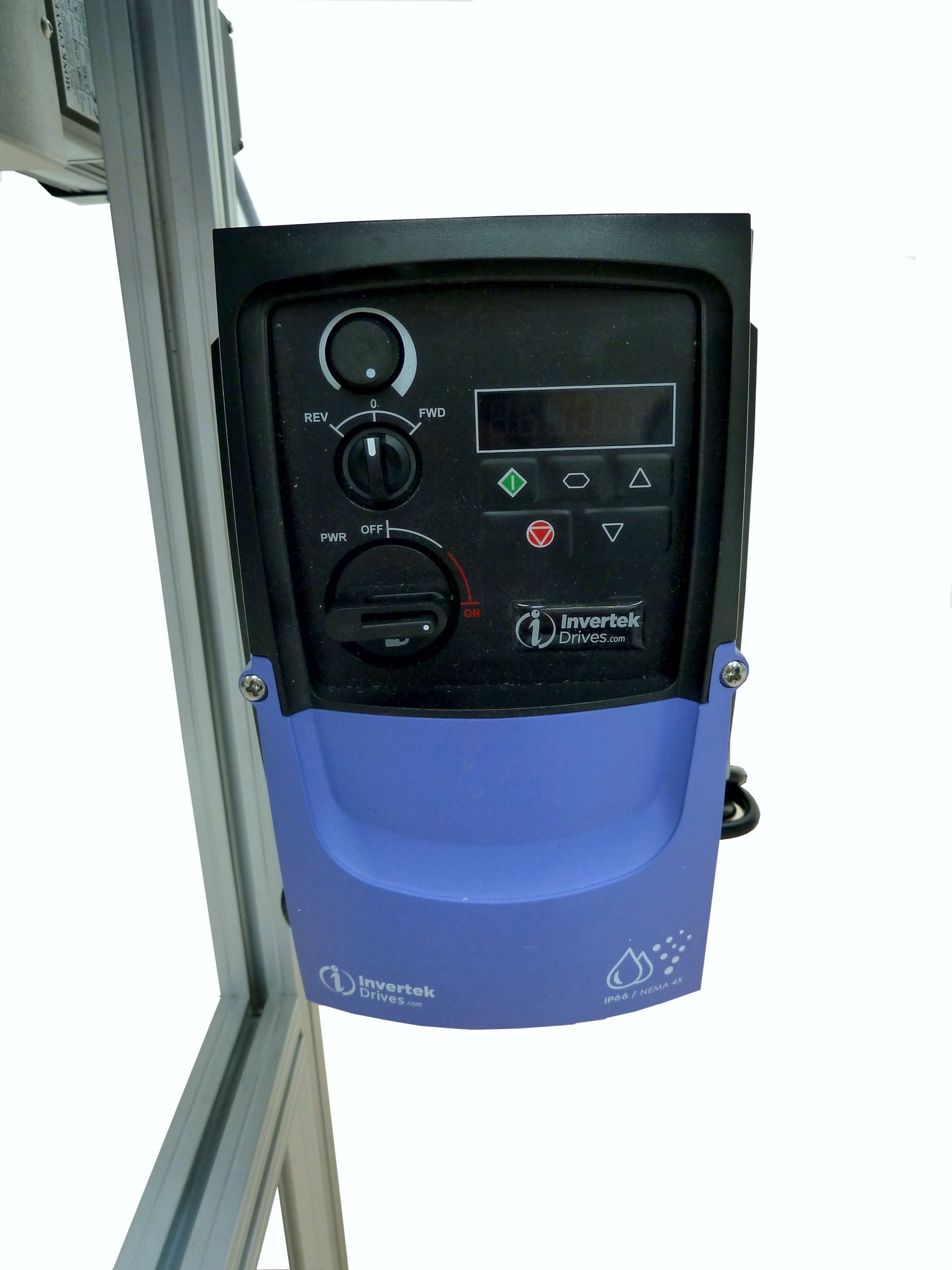 Controls
Inverter motor speed controller
Adjustable ramped acceleration & deceleration
Frequency indicator
Simple fault finding codes
Easy to install and program
limited number of parameters for an AC drive
Also available in the IP65 (NEMA 4) version
Ratings up to 2.2 kW.
Supply either 220v, 110v single phase or 3 phase 220v and 400v
Comes complete with built-in class A EMI filter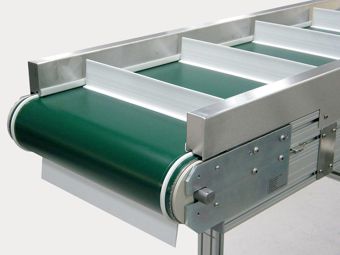 Belt Flights
Belt Flights
Belt flights can be welded to the belt
Ideal for separating products
Can be used for collating groups of products
Many different profiles and sizes available
Used on inclined conveyors and elevators
Inline Flights
In line flights can be welded to the belt
Separates the belt into lanes
Can be used to keep components separate
Many different profiles and sizes available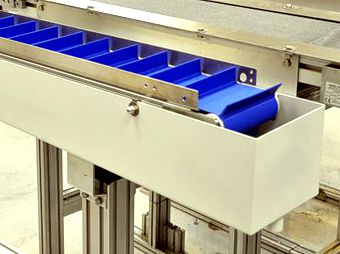 Special Conveyors
Drip Trays
Oil, cutting fluid etc. can be saved and returned to a tank
Used on the outlet of components from machining centers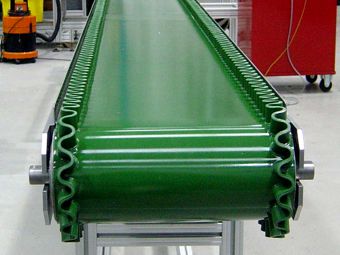 Integral Belt Edges
Used where very small components could get under the belt
Also used to keep a liquid on the belt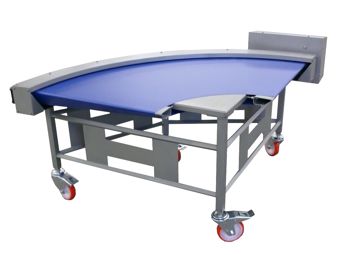 Belt Bend
Inner radius 200mm to 1200mm
Outer radius 600mm to 2200mm
Stainless steel main frame
Turning angle 90 or 180 degrees (other angles – phone)
Belt Widths: 300mm, 400mm & 600mm.
Speed Range 1.4 to 20m/min
Load up to 10kg/sqm
Food standards FDA/USDA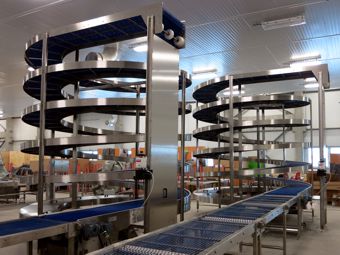 Spiral Conveyor
Belt width 308mm
Inside belt radius 500mm
Outside belt radius 808mm
Maximum speed 35m/min
Stainless steel frame
Temperature range 0-60 degrees C
Modular setup
No lubrication needed
Choice of belt types