A fully automatic conveyor system designed to feed drinking cups from machine-to-machine.  Good access around the machines was maintained by utilising three vertical continuous lifts designed specifically for the product.  The compact lifts take up minimal floor space and lift product vertically up to high level conveyors.  This means product can be fed over walkways keeping the floor area clear.   
MODU System 85mm wide flexible chain conveyors were ideal for this project as they can be routed along straights, into curves and up or down inclines.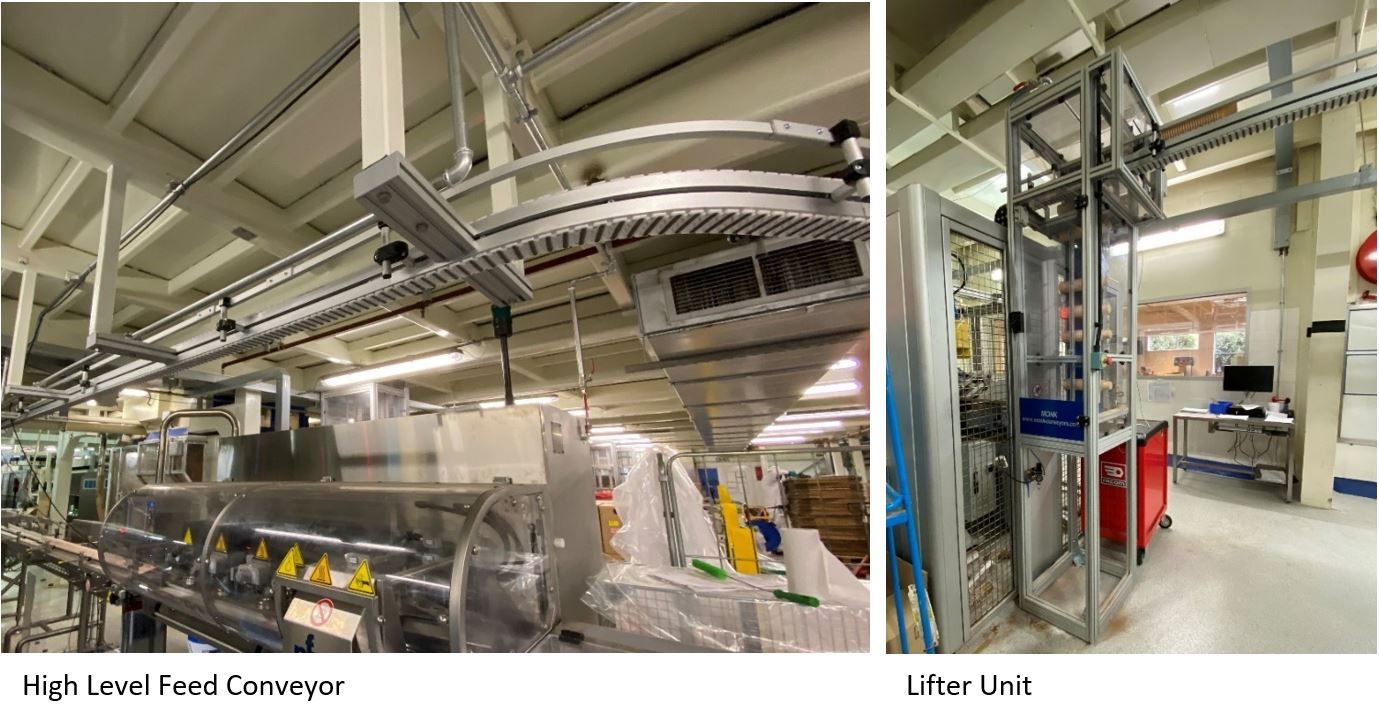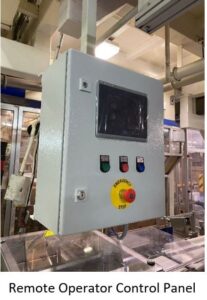 Our control system was built to the customers site specification including software and communication with machines upstream and downstream.  If one of the machines stopped our system would pause until the machine restarts.
An operator touch screen positioned remotely from the main control panel, gave operators line information and control on the production floor. 
The system was developed in a short time to meet the customers deadline and included mechanical and electrical installation.  Service and maintenance contracts can be provided along with critical spares.   
Please contact us to discuss your product and application. 
Food 
Industry 
–
Product Feeding
Our customer provides frozen meals to the retail and wholesale sectors, producing for many of the UK's biggest retailers and brands.  Their site is an 80,000 square ft state-of-the-art production facility.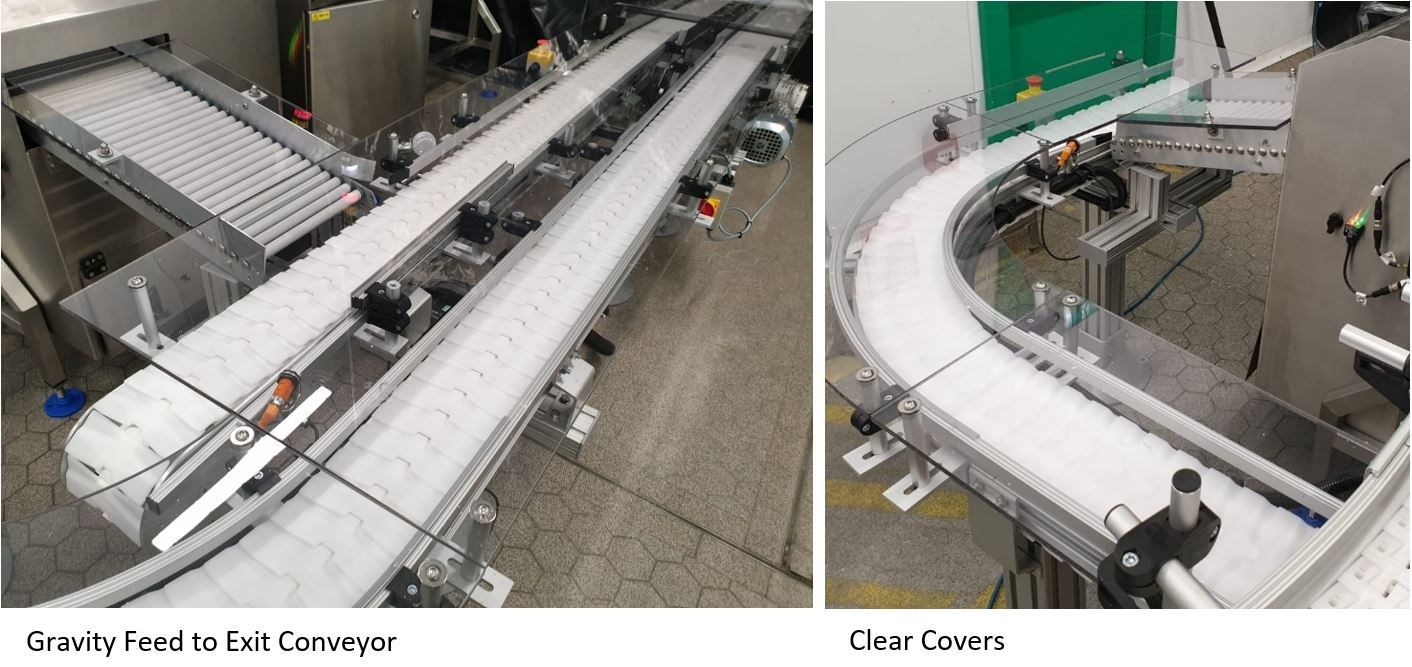 Installations included a specially designed line to take product away from a check weigher and feed it to an area for inspection.  This involved bespoke gravity conveyors to fit inside the machine and powered MODU System plastic slat conveyors to feed product around the compact area.
A small PLC control system was used with sensors to detect if the conveyor system was full.  This enables operators to leave the system while it collects products for inspection. A second system brings products down through a mezzanine floor to a ground level packing area and onto an existing rotary table.
Monk Conveyors has mechanical and electrical installation teams. We can provide you with the complete "turnkey" installation.
We appreciate that production output will often still be required while installations continue, so we will carefully plan our installation and work with you to find the best solution which causes minimal disruption.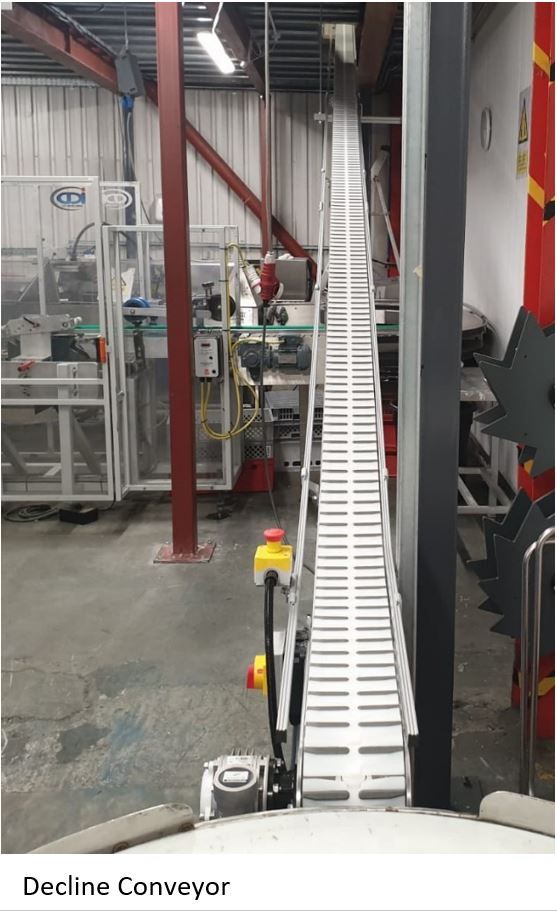 We Also Supply Spiral and Inter-Floor Conveyors 
Monk Conveyors supply and install full working systems which are designed to suit your specific needs.  We install full pneumatic and electrical control with operator touch screens if required.  Our control systems range from simple stop starts up to barcode capable controls, capable of communicating with your Warehouse Management System (WMS). 
Please contact us on 01252 369800 or email sales@monk-conveyors.co.uk for help and advice.