Dawson Shanahan in Welshpool are specialists in precision cold forming and machining. They approached Monk Conveyors for a conveyor line to transport machined car parts from a CNA machine to a Wash Machine. Monk helped design the base of a small pallet 280 x 80mm to hold the parts. Pneumatic gates were installed to allow parts to stop in front of operator stations. Due to coolant being present on the parts, a full drip tray with drain pipes was fitted to the conveyor line.
Our projects included full mechanical and electrical installations, followed by training and handover to the customer. Please contact us for further information or to request a visit.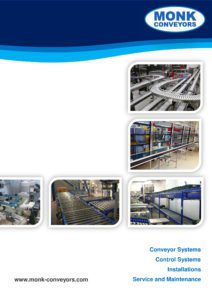 New Brochure
Click to download our new brochure which features more information about our company and how we could improve your production or warehouse facility. Or contact us to request a brochure to be sent in the post.